9 Concrete Floor Restorations That Will Blow Your Mind
You may be unused to thinking of concrete as a powerful, visual medium. Before I did this blog post, the word "concrete" conjured up images of underpasses and plain, grayscale floors. But apparently, there is a secret world of artists and architects out there who do nothing else but manipulate concrete into mind-blowing shapes and colors; from floors, to courtyards. I spent about 4 hours looking through hundreds of concrete restoration company portfolios and came up with my top 9 floor restoration jobs. Unfortunately, these companies chose not to post "before and after" pics which I think would have been really cool. Still, the "after" pics certainly made the search worthwhile. From least impressive to most impressive, here are my top picks:
# 9  Nightclub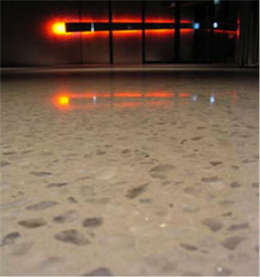 Why I like it: The clever use of fossils in the floor replicates the sense of dancing on the beach, while letting guests enjoy the cool, air-conditioned interior. The fiery sun imagery, a trademark of this Ibiza favorite, is reflected on the floor with a startling visual impact. I would love to see this place with the lights low and strobes on.
#8  Floor Engraving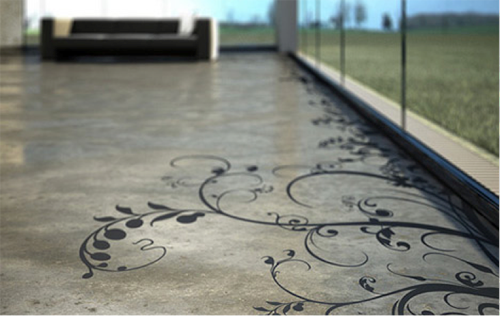 Type: Private office of Chief Creative Officer at a Graphic Design studio
Why I like it: I love when a concrete restoration is able to synthesize nature and utility. All too often concrete is seen as the antithesis of nature in design, a way to project industry and modernity. But in this floor restoration the concrete looks like natural rock and the engraving seems to create a portal through which the rich nature of the Italian countryside bleeds through into the office, offering a rejuvenating and utterly sophisticated feel.
#7: Lobby Logo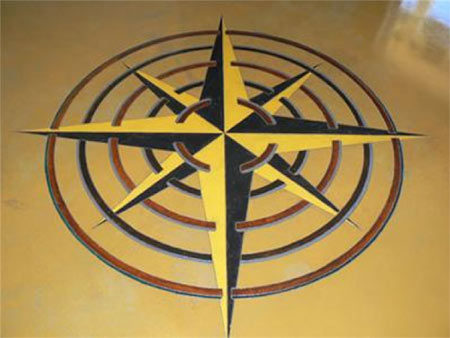 Type: Lobby for a strategic consulting business
Why I like it: I think the logo design is powerful. This particular color scheme is something referred to as "Smith's Colors." I don't know where the name came from but I must say the overall impact of yellow, black, dark red and gray is quite compelling. They also polished up the floor in this job though that's a little harder to see from this pic.
#6: Private Home

Type: Driveway restoration for a private home
Why I like it: Any Scottish manor is automatically designated as cool in my book. The polished concrete, amazing design, and gloomy Scottish airs of this arrangement make me wonder what kind of car is worthy of gliding across that driveway and into the parking garage? If it was me, I'd be keep a restored, silver 1952 Jaguar a la James Bond right in the center of the drive.
#5: Spiritual Health Spa

Type: Concrete floor acid staining
Why I like it: I have never seen a massage parlor with a floor like that but now that I have, I feel like no massage parlor should ever go without it. The interplay of turquoise, red and gold has something cosmic about it, like I'm looking into a nebula while facedown with a Thai masseuse doing handstands on my back. And there's something indisputably awesome about that.
#4:  Courtyard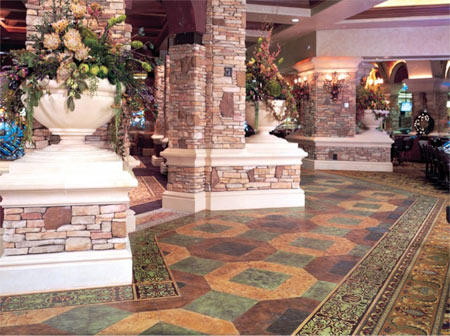 Type: Courtyard, floor and column restoration
Why I like it: This is the outdoor courtyard of Persian rug mogul and Silicon Valley venture capitalist, Pejman Nozad. And this is just the OUTSIDE of his house. The courtyard concrete is homage to his ancestral roots and family business: The Qom rug makers. The intricate, Islamic calligraphy is an interesting contrast to the Western columns and flower arrangements. The overall effect is majestic and soothing.
#3 Lobby
Type: Lobby restoration
Why I like it: Forget what you know about Russia: Flush with newfound oil wealth, Russian business tycoons have pushed the envelope of interior design in their offices and private homes, rivaling the decorative accomplishments of Manhattan, London, and Paris. Russia's largest Nickel company, which operates primarily in the North; past the arctic circle, greets its visitors with a seamless blend of old and new. The whitened concrete floor reminds the visitor that outside are -40 Celsius temperatures, whereas the floral print pattern stimulates the eyes and warms the heart.
#2: Tanning Salon

Type: Epoxy restoration for the concrete floor
Why I like it: Gazing at the floors of this spa/tanning studio is like looking into the sky:  The left-hand picture is their lobby, which has a floor like the sunset and the right hand picture is a room they use for some kind of beauty procedure, which reminds me of looking at clouds from an airplane. Really, this work is almost poetic.
#1: Private Residence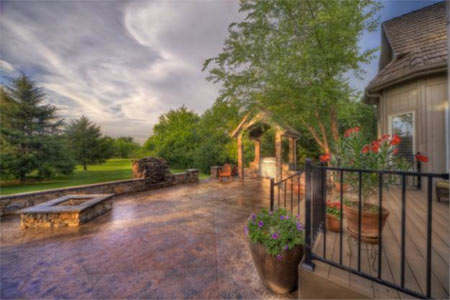 Type: Concrete courtyard restoration
Why I like it: Something about this design is just magical. It feels at once old and modern. The color range of the concrete next to the house and the lawn is wonderful.